CAW News
---
CAW 2012 (Pre-Release) chosen by Oregon Wine Press Panel as Value Pick

OWP Value Picks
"Deep Delve into 2012--Panel digs into incredible vintage of Oregon Pinot"
By Karl Klooster
"During the past decade, Oregon Pinot Noir has indisputably demonstrated how it has earned its status as one of the best in the world, if not the best. Among the several top-rated vintages over those years, 2012 has proved to be the most lauded of them all...Oregon Wine Board placed a punctuation point on 2012 by calling it 'An epic harvest that could lead to one of the best vintages in the history of the 50-year old region.' Our Oregon Wine Press panel's recent tasting of 2012 Pinot Noirs confirmed that prediction. The submitted wines were so exceptional almost across the board, limiting the list to the final selection proved a demanding, albeit engaging challenge." Here is what the panel had to say about the 2012 CAW Pinot Noir from Coats and Whitney Vineyard:

2012 CAW Yamhill-Carlton Estate Pinot Noir
Planted in 2003, the 10-acre Coats and Whitney Vineyard is devoted entirely to Pinot Noir. The last release exhibits a ripe fruit aroma and silky sweet, red cherry mid-mouth accented by fine tannins. Nicely balanced throughout. $38; 220 cases
---
---
CAW 2011 named Editor's Top Tasting Picks by Oregon Pinot Noir Website
Oregon Pinot Noir editors have chosen our 2011 CAW Pinot Noir, Coats and Whitney Vineyard at one of 10 top picks in a blind tasting.
Please check it out at Oregon Pinot Noir website.
---
---
CAW 2011 Pinot Noir Coats and Whitney Vineyard Takes Double Gold
At the 7th Annual American Fine Wine Competition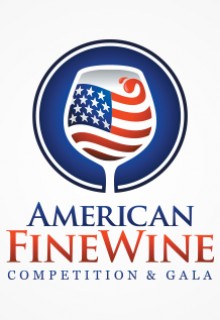 The results of the 2014, 7th annual American Fine Wine Competition (AFWC) are in. On January 31, 2014, the awards were announced simultaneously in Napa Valley, CA and in Boca Raton, FL.
Our 2011 CAW Pinot Noir from Coats and Whitney Estate Vineyard was awarded Double Gold.
The event serves to showcase top American winemakers and labels that are not well known to the average consumer and even to many experts. The competition is by invitation only, maintaining a tight exclusivity for the largest American-only wine competition. A total of 766 of the country's best wines were presented to a panel of judges, who all have extensive backgrounds in the wine industry as judges, wine writers, and sommeliers. There were 134 double gold awards that require unanimous agreement among the judges. Only 15 of the double gold's were awarded to pinot noirs with only 2 from Oregon, CAW and Lange. While most of the pinot noir winners were well above in $50 retail price, our 2011 CAW Pinot Noir from Coats and Whitney Vineyard was one of 2 pinots priced below $40 retail.
www.americanfinewinecompetition.com
---
---
CAW Wines 2011 Pinot Noir Coats and Whitney Vineyard

We are pleased to introduce our 2011 vintage to the market. It was recently and enthusiastically reviewed by David Schildknecht of eRobertParker.com as a wine to keep, rated 92.
The review follows:
"The fruit is vinified by Brian Marcy of Big Table Farm, who showed me the CAW Coats and Whitney 2011 Pinot Noir, of which there are 250 cases. Sweetly ripe if faintly tart-edged red currant and red raspberry are tinged with Ceylon black tea and underlain by a marrow-rich evocation of veal stock . Silken and infectiously juicy, it finishes with vibrancy and seductive saliva inducement. This is a gorgeous example of how the brightness and energy of this analytically extreme vintage can be harnessed in the service of elegance, textural refinement and flattering generosity rather than advertising it audacity. I suspect that it holds enormous pleasure in store for anyone who follows bottles through 2022."
---
---
Let us Introduce You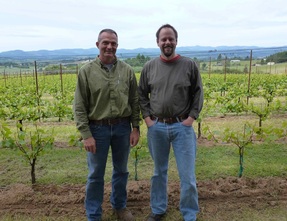 If you have wondered who performs the magic at CAW Wines, let us introduce you to Daniel Fey (left), President of Results Partners, LLC, a vineyard development and management company and Brian Marcy (right), co-owner and winemaker of Big Table Farm Winery.

Both Daniel and Brian are incredibly talented, knowledgable and straight foreword. We are grateful for how they manage our farm, our wine, and (yes) us. It has been our pleasure and privilege to work with them.
---
---
Transitions
Don't let the new packaging fool you. Beginning with the 2011 vintage, we are premiering new labels on our CAW Coats and Whitney Vineyard Pinot Noir. If you look closely, the sun, moon and star logo that was on the back of the previous labels has been refreshed and is now prominently featured on the front label. The raven can now be found on the back label along with 2 additional symbols. The four logos on the right, shown above, symbolize the following:
Sun, Moon and Star--Site
Sun and Vine--Farming
Crab--Winemaking
Raven--Spirit
These elements remind us of the work ahead. We hope you appreciate the new look and will continue to shop for us in either cover. The 2011 vintage will be available in the Fall of 2013.
---
2008 CAW Pinot Noir Wins "Best in Show" at The 8th Annual Key Biscayne International Wine Competition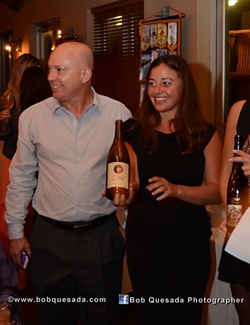 The 8th Annual Key Biscayne International Wine Competition was held November 30, 2012 at The Links at Key Biscayne to benefit the Rotary Club of Key Biscayne Foundation and affiliated charities for adults and children. The event featured food created by 15 prominent South Florida restaurants including the Ritz Carlton in Key Biscayne, Novecento, The Island Cafe, Old Lisbon, Crepemaker, Xixon, Baklava, Chinois Chinois, La Moon, Tuto Mare, Puntino, Rusty Pelican, Archie's, Doggi's & More Cafe and The Links.
The competition was an Old World versus a New World challenge for each varietal entered. CAW Wines 2008 Pinot Noir took home the "Best Pinot Noir" against French Burgundies as well as being judged overall "Best in Show" by a panel of professional and consumer judges.
Shari Gherman, President of American Fine Wine Competition & Gold Medal Wine Tour made the presentation of the 2008 CAW Pinot Noir "Best in Show" award (shown in the photo at the left). She was accompanied by Alejandro Ferrari, President of Strategic Importers, CAW Wines distributor in Florida. Our wine is available at Stefano's Wine and Liquor, Key Biscayne, FL as well as other fine restaurants and purveyors in South Florida.
Photo courtesy of Bob Quesada, Photographer.
---
---
2012 Pre-Thanksgiving Tasting
The cooks and proud owners in the kitchen at the Republic of Jam have outdone themselves again. We were fortunate to be invited back to show our wines at their newly renovated store in Carlton, OR the weekend before Thanksgiving. Lynnette and Amy perfectly paired four dishes with our CAW 2008 and 2009 Pinot Noir vintages. The turkey meat loaf with cranberry ginger ketchup recipe can be found on our wine and food blog. The orange cupcakes with boysenberry orange jam were in celebration of their 2nd year since opening. Congratulations to them on their success; and, thanks to them for matching sweet, savory, and swanky little bites with our wines. Thank you to all of our friends and wine followers for stopping in to see us. It is always great fun to be there.
---
Bottling 2011 CAW Pinot Noir Coats and Whitney (Estate) Vineyard
Not always smooth sailing--or in this case--perfect wrapping. Our 2011 CAW Estate grown pinot noir was bottled on September 14, 2012. We had a perfect sunny day, many helping hands, an impressive mobile bottling unit, and 11 barrels of expressive fine wine. Unfortunately, our newly designed labels and the labeling machine were not a perfect match. Thankfully, as we have come to know by experience, the cooperative Oregon spirit showed itself once again by flawlessly connecting the parts and people necessary to marry our labels to our bottles. Thank you to all of the people who made our 2011 CAW bottling possible. We give a shout out to LabelOne who made special efforts to insure a good ending.
---
---
CAW Memorial Weekend (2012) Tasting at the Republic of Jam in downtown Carlton, OR
We had a great 3 day weekend tasting with our hosts at the Republic of Jam. Lynnette and Amy supplied a variety of delicious bites prepared with their delectable jams. We poured our 2008 and 2009 vintage CAW Pinot Noirs that matched beautifully with the food that they served. There were street entertainers and lots of happy shoppers.

---
CAW Takes Double Gold at the 2012 Finger Lakes International Wine Competition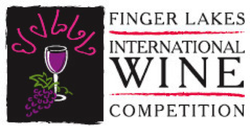 The results are in and CAW Wines has taken home a double gold medal at the prestigious Finger Lakes International Wine Competition. This year more than 3200 wines were entered from 22 countries with all 50 states represented. The panel of 64 world-renowned judges made only 78 double gold award selections.
2008 CAW Pinot Noir, Yamhill Carlton AVA won the Double Gold. There were only 3 Double Gold's awarded to Pinot Noir wines and CAW was the only Oregon Pinot Noir recognized.
---
---
Coats and Whitney Vineyard Achieved Certification as a Sustainable Vineyard by LIVE
Coats and Whitney Vineyard has been certified as a Sustainable Vineyard by LIVE (Low Input Viticulture and Enology), a not-for-profit organization that provides education and certification for vineyards and wineries.

LIVE uses international standards of sustainable viticultural and enological practices in both wine-grape and wine production. The IBOC (an international sustainability organization) has honored LIVE with its first endorsement of an organization in the United States.

The objectives and standards contained in the certifications are not an endpoint; but rather, the beginning of an ongoing process at Coats and Whitney Vineyard.
---
---
CAW Wines Recognized in American Pinot Noir Awards for 2011
CAW was awarded one of the "Promising Newcomers and/or New Discoveries" by the PinotFile Newsletter in its American Pinot Noir Awards for 2011. The award can be viewed in PinotFile Volume 8, Issue 47, December 20, 2011. The link follows: http://www.princeofpinot.com/article/1164
---
CAW Wines 2008 Pinot Noir Reviewed in The Prince of Pinot's PinotFile Newsletter



_
Volume 8, Issue 45, November 1, 2011.
Moderate reddish-purple robe in the glass. Welcoming aromas of black cherries, strawberry jam, violets and sweet oak. Medium-bodied flavors of nicely spiced cherries, raspberries and plums with a floral note persisting on the finish. Very smooth and charming in the mouth with well proportioned tannins and overall impeccable balance. Very Good.
The Pinot Value Icon signifies a very good or even exceptional wine that is reasonably priced for the quality. Please click on the link for the full review on the Prince of Pinot website:
PinotFile Review
---